The Big List of Paid Acquisition Channels
This is a big list of paid acquisition channels that should be helpful when you are looking at which channels to user for growth. Please read the Getting Started with Acquisition Channels guide first, as it provides helpful metrics that will help you determine how to approach acquisition.
Google search (SEM/Adwords)
Use Case
Consumer searches for a Children's Museum in Chicago & finds results that link to individual museum pages
Here's the top of the search result page (SERP):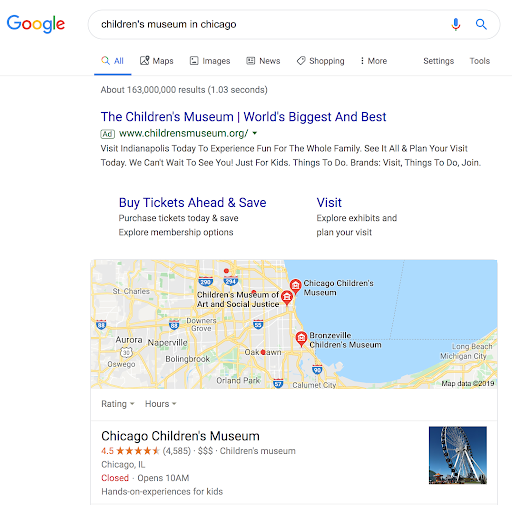 Here is the middle of the 1st page: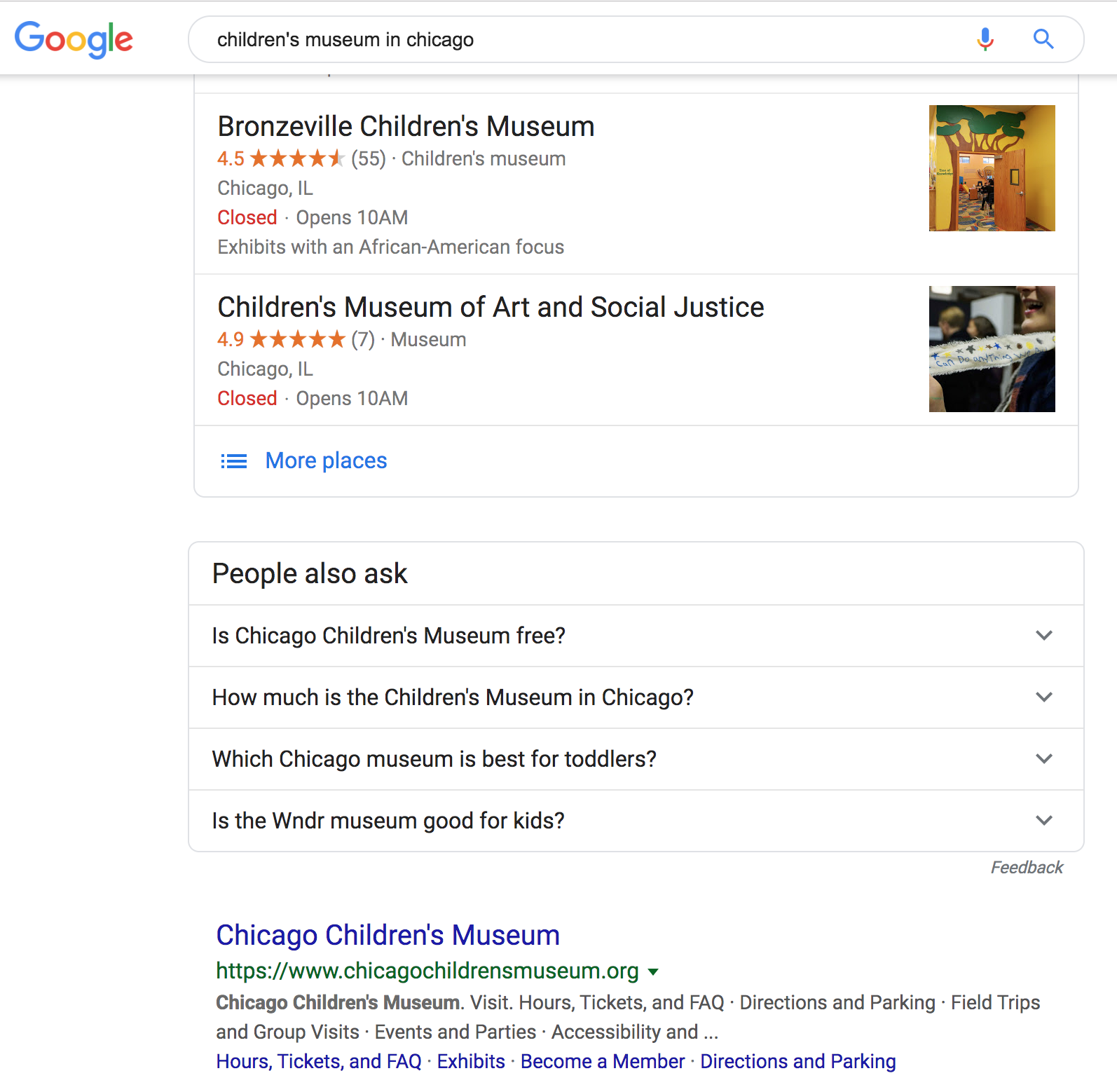 And the bottom portion of the page: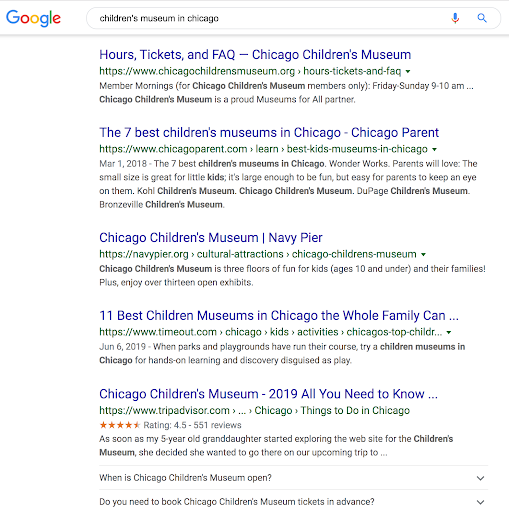 Notice how far down the "normal" search results show up - they are below the paid ads, below the mapped location, below the "places" box, below the primary Q&A section.
It's critical that you think about SEO when you're thinking about SEM with Google. Good thing we cover that in detail later on!
Facebook Ads
Use Case
B2C company runs acquisition advertising campaigns driving people to download their app.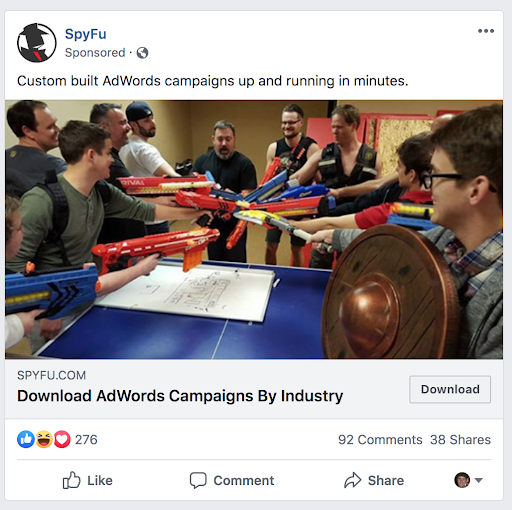 Or, another social platform posts on Facebook using ads to drive traffic - that's interesting!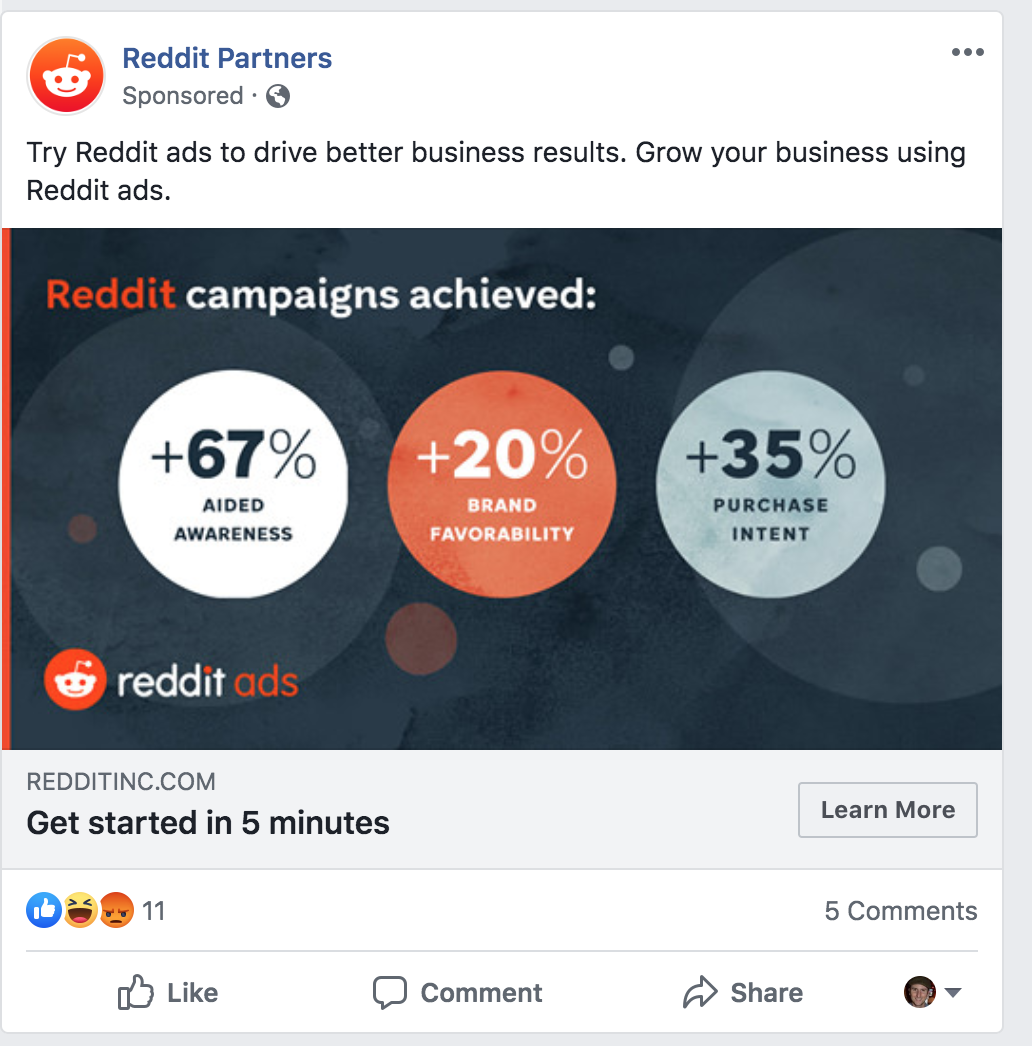 Pros
Billions of potential people to target

Fairly cheap channel to get started in

Can drive high volume at a low cost

Lots of ad options to try out

Built in content & creative A/B testing and multivariate testing will save you time
Cons
Complex UX and so many options can confuse you and get you lost quickly

Targeting, while often said to be the best platform for accuracy, is often not as great as it seems. 

You can burn through money without finding qualified leads, and while the volume can be high, the quality may be low.
Instagram
Use Case
Apparel brand advertises their latest running shoes to users on Instagram interested in athletics (via Facebook's audience targeting)
Or a local fruit company advertises their peaches to members in the feed they target by location (below):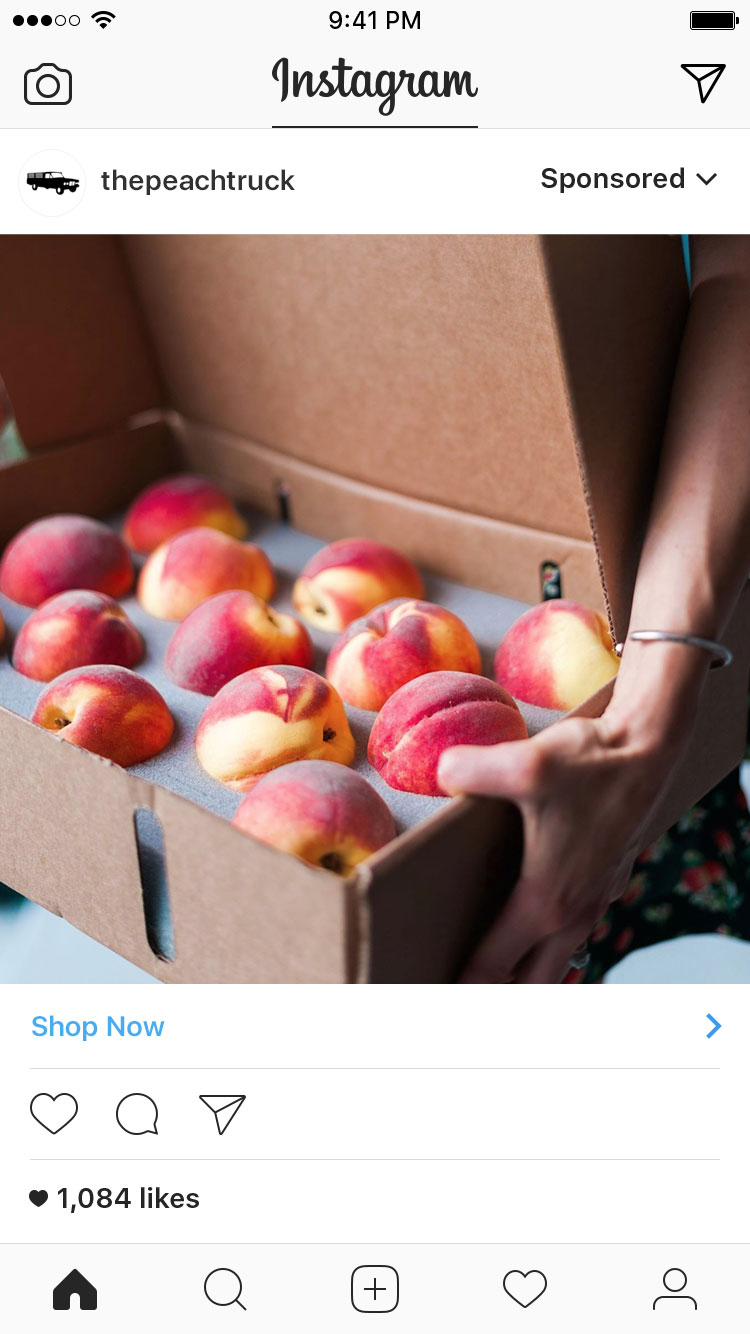 While Instagram is traditionally thought of as a B2C ad platform, keep in mind that many potential customers in the B2B space may also be on Facebook or Instagram at work - and they may engage with your ads from a business perspective. Because Insta uses the Facebook targeting settings, they know if you like or engage with content and ads on the Facebook side of the platform, so targeting is pretty robust. 
Instagram works well in the eCommerce space and compared to Facebook you likely will get higher quality lead generation from Instagram at a comparable price (if not lower on a CAC basis).
Pros
Billions of potential people to target (they are owned by Facebook)

Handle ad buying from within Facebook's ad manager

Tons of younger audiences are on the platform

High impact creative can work well
Cons
Gets expensive quickly if you don't tune the audience and campaigns
Google shopping
Use Case
User searches for Adidas running shoes & sees links to shop urls in the results that bring people to store websites.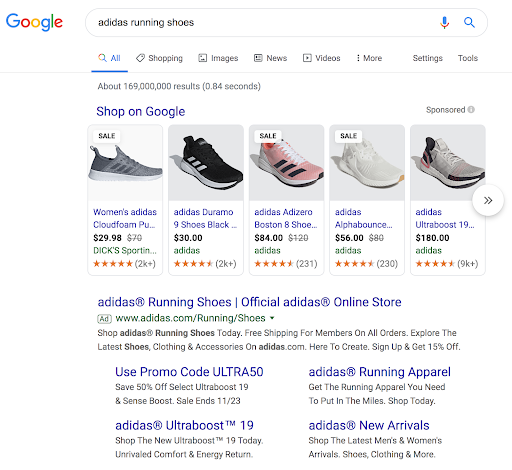 Pros
Massive potential reach

Ability to auto-generate the ads based on a feed of products

High search intent from users browsing
Cons
Competitive

High cost

Some friction to get started with feeds
Twitter
Use Case
A well known B2B brand is looking to extend their awareness reach by showing ads in the feed.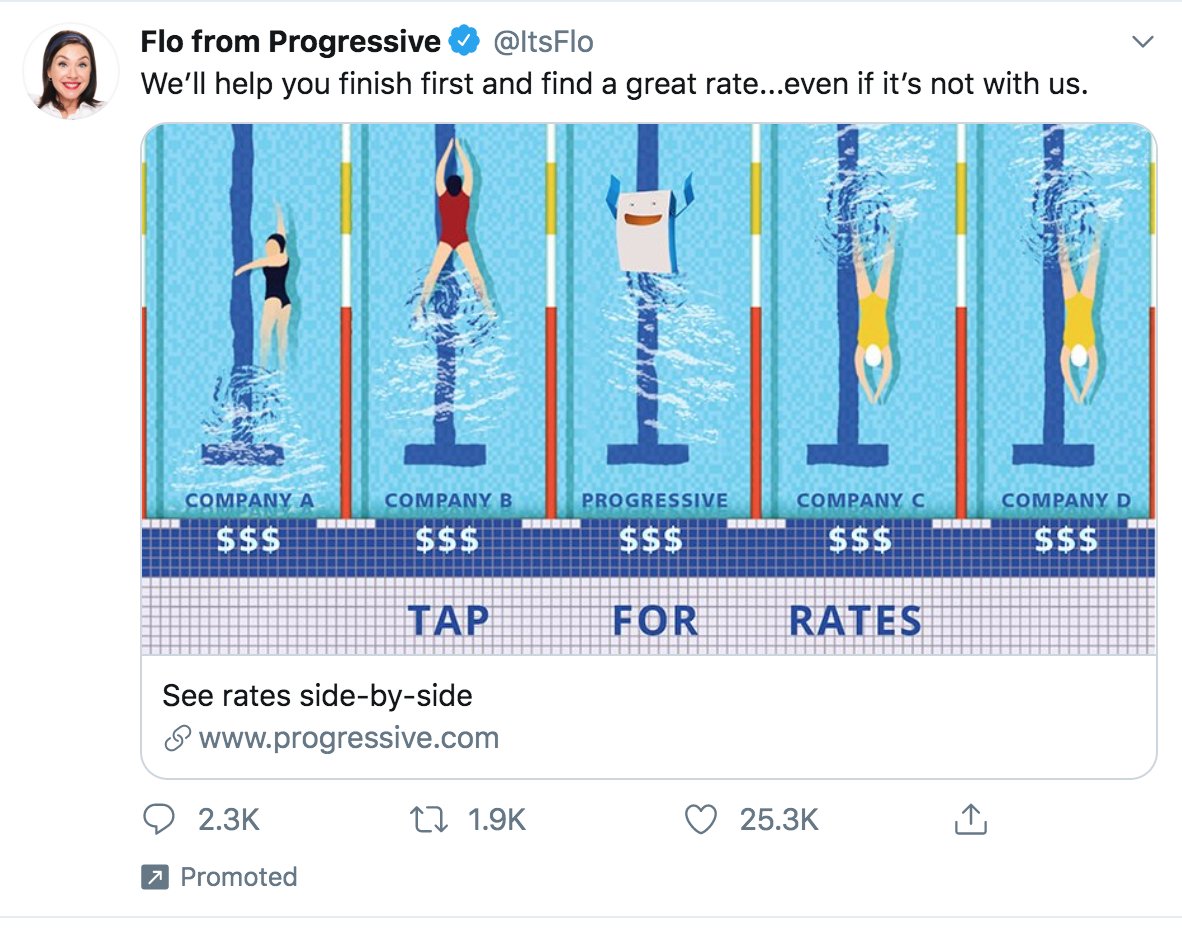 Pros
Surprisingly easy to use admin interface

Much cheaper option to get started

Can drive good engagement inside of Twitter
Cons
Relatively small audience compared to the major players

Targeting is ok but not great

It's hard to drive conversions from Twitter - it's just not a place people tend to hang out when buying - it's more social
Quora
Use Case
Mailchimp looking to target potential users within the marketing threads on quora by talking about targeting in their ad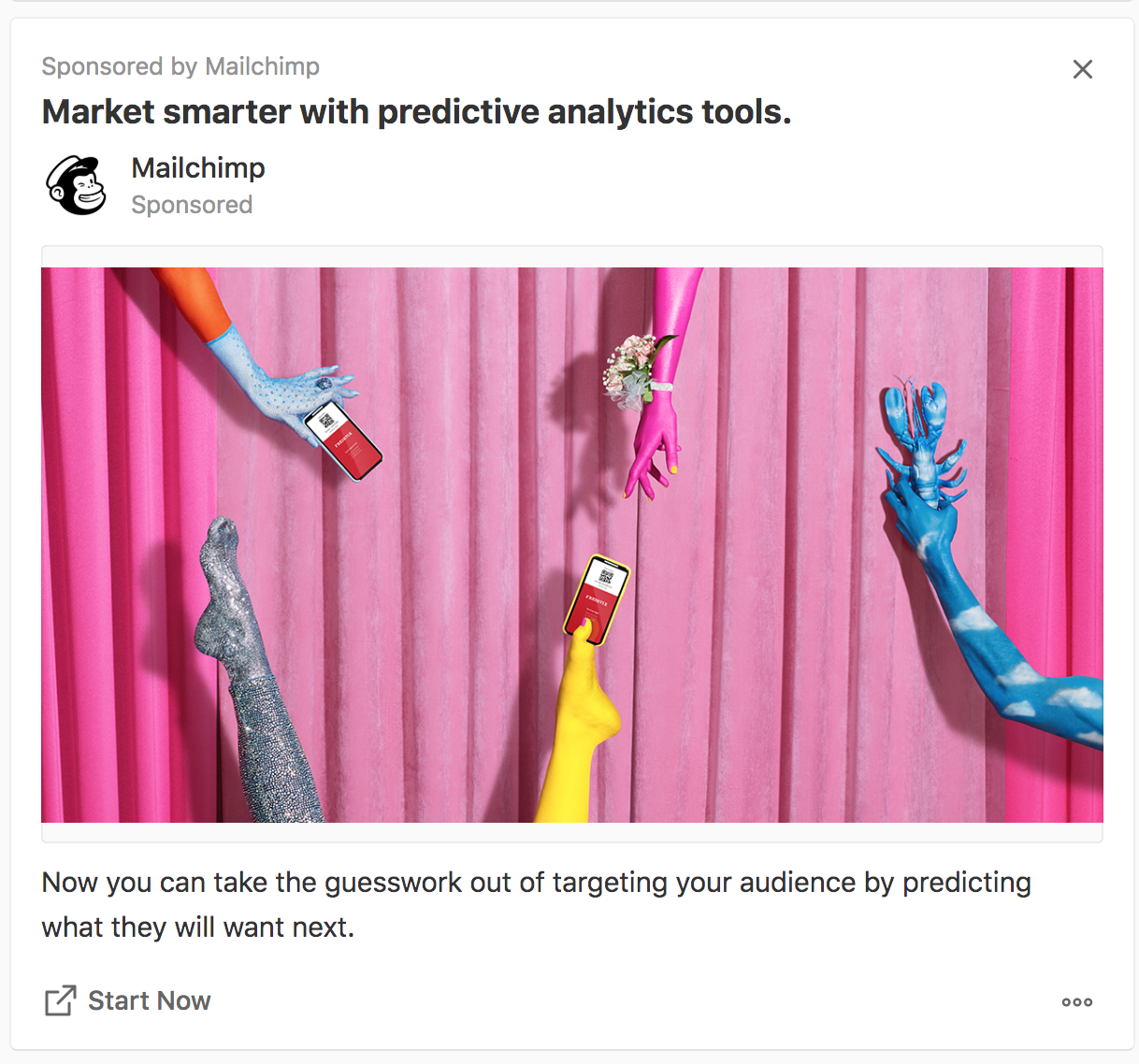 Upwork leveraging the "growth" channel to promote their freelance marketers.

Pros
Quora is generally a lower cost entry point for digital advertising

It has a robust set of options to choose from in terms of creative and targeting options

It's fast and easy to get started with
Cons
Targeting is not great

It's a small network, so you can't really scale up using this channel

The lead quality in our experience isn't amazing 
Pinterest
Use Case
Media brand looking to reach new moms uses craft ads to drive traffic to their blog.

Makeup brand reaching people browsing pinterest boards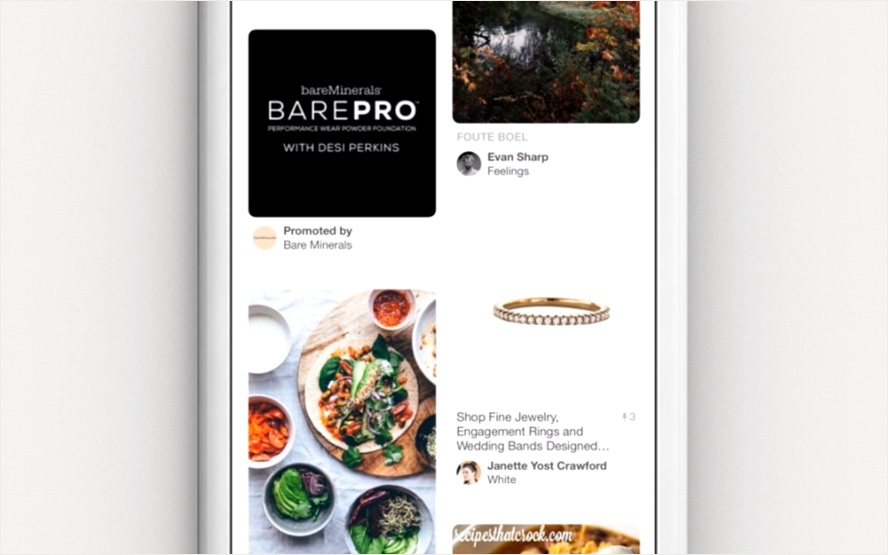 Pros
Highly visual platform with a strong cohort of power users and browsers
Cons
Unless you are a visual type brand it may be hard for you to find a relevant target here since it's a visual platform.
App Search Ads
Use Case
Mobile game leverages branded and non-branded search phrases to drive downloads from the app store

Consumer app connecting military members with supporters buys branded keywords in app store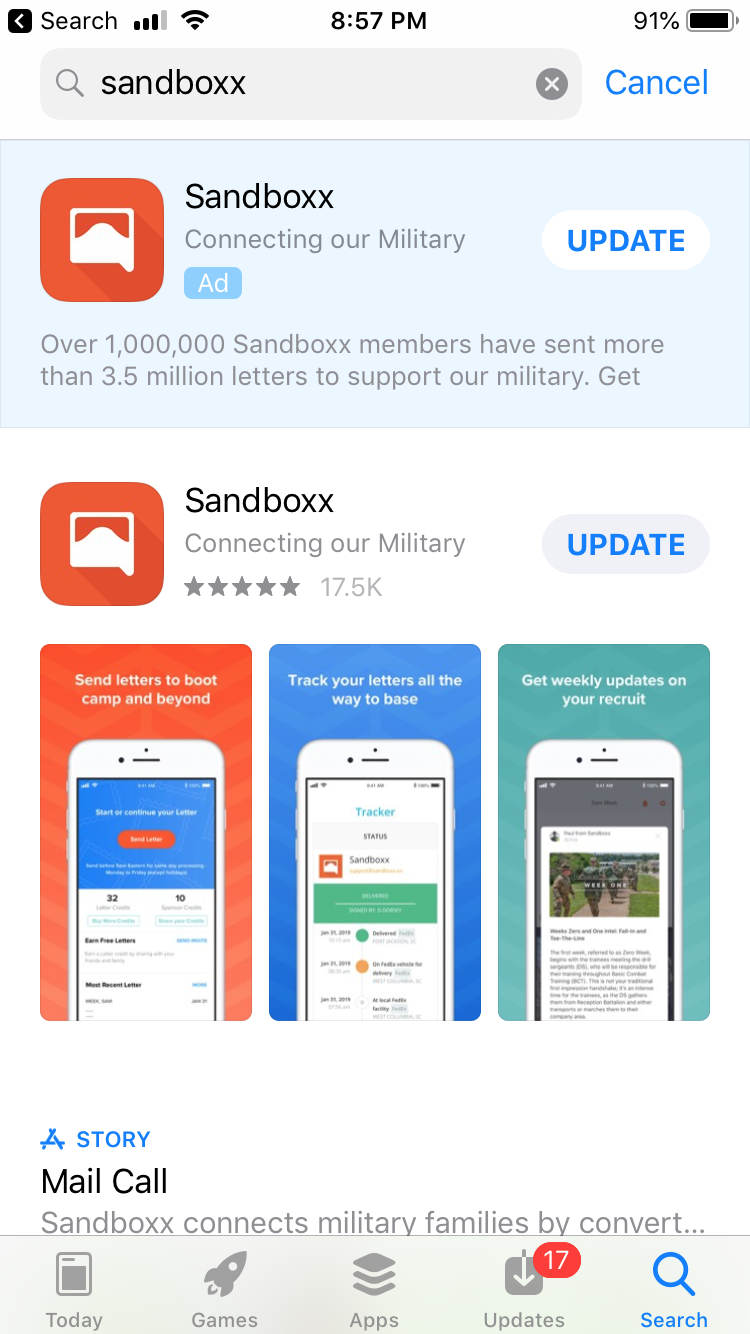 Pros
2nd best way to get people in the app store to find you (1st best way is to work in your app store organic placement)
Cons
Lower volume of search means your install rate may be low unless you have a ton of traction already

Users who search the app store likely are looking for an app they know - if they stumble upon yours they  may have low intent
Bing
Use Case
B2B marketing company targeting enterprise companies leverages Bing since it's the default search engine on Outlook, used by many enterprise companies

Consumer on desktop using Internet Explorer searches for a product, paid ads come up 1st and 2nd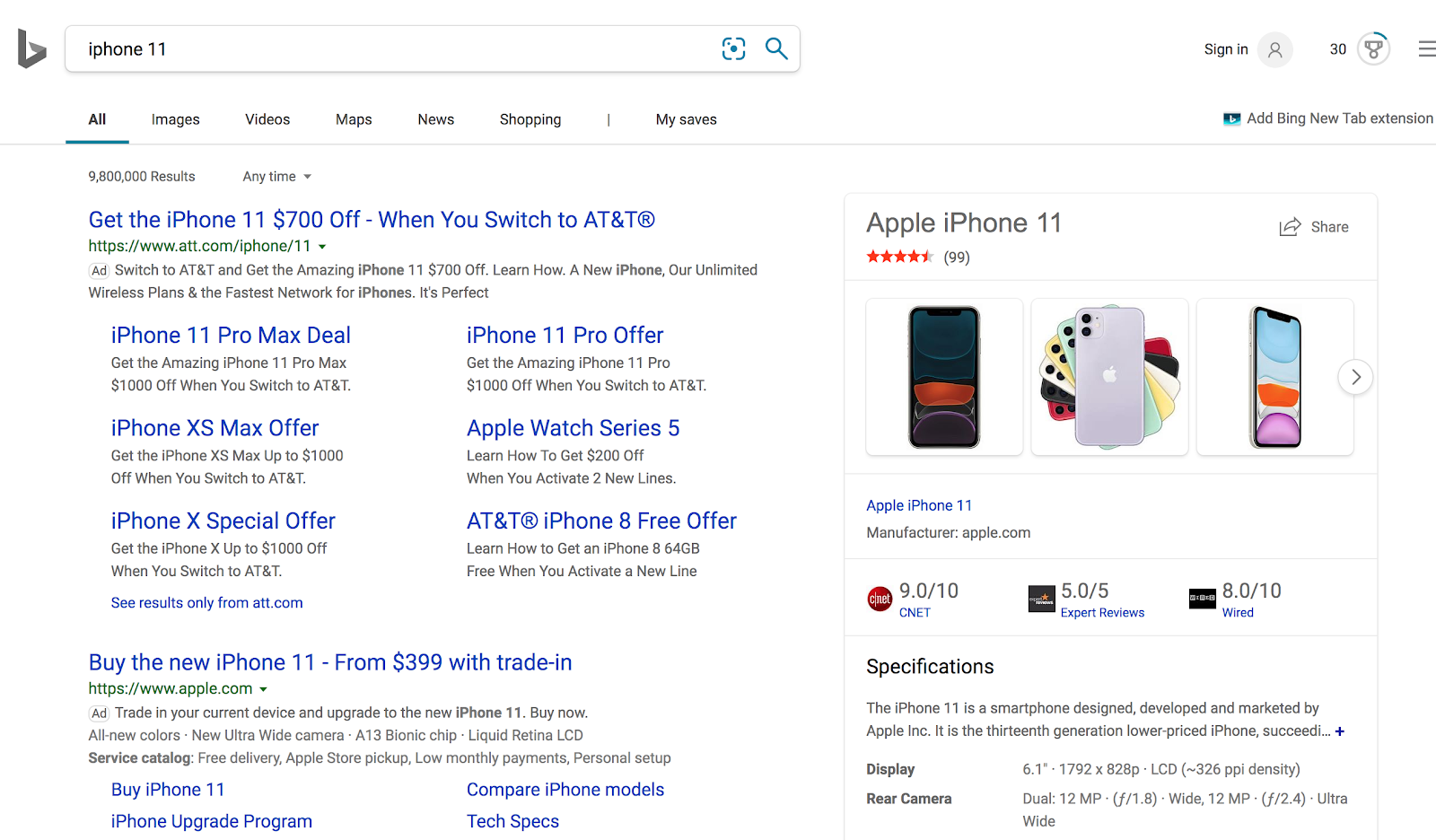 Pros
Very cheap channel - it's like a mini google

High intent searches (like google)

Solid for B2B - many enterprise companies require Outlook for email, and you can run Bing ads inside outlook
Cons
Completely dwarfed by Google in terms of size of potential market of users

Will exhaust the top end of your channel targeting quickly if you try to scale it
Snapchat
Use Case
Consumer brand looking to reach a young audience (under 30) leverages Snapchat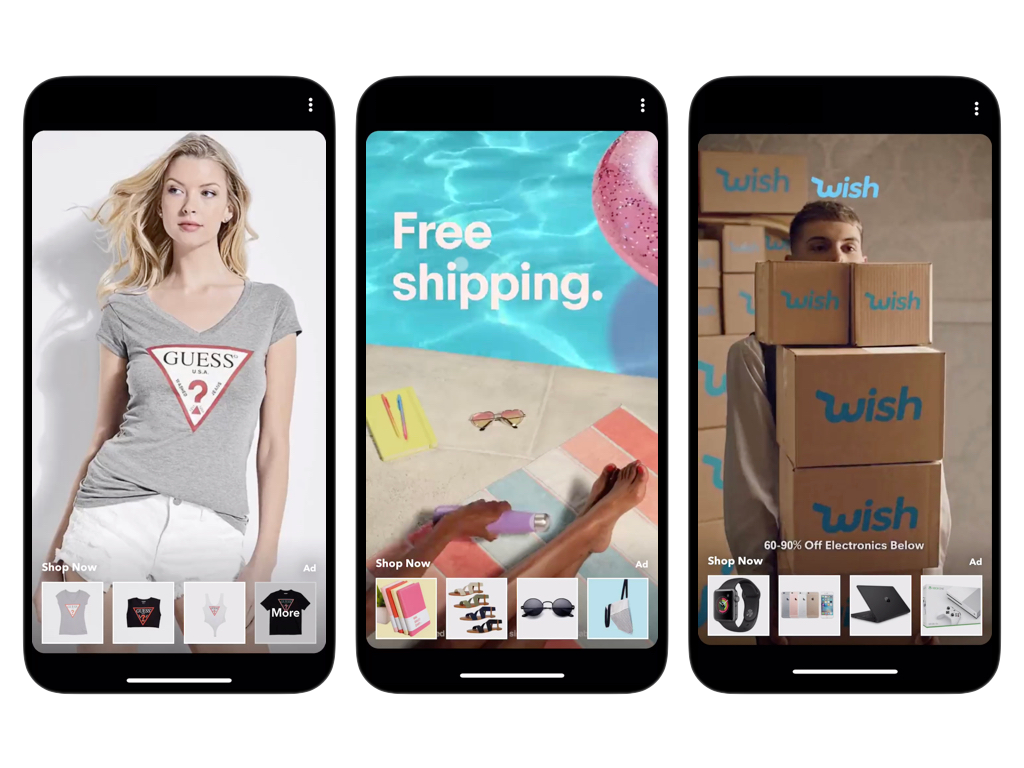 Pros
Solid audience targeting

Physical location targeting is solid (less than a half a mile radius for stores)

Large and growing audience

Fairly low cost platform to date
Cons
Low intent users so conversion rates will likely suffer if you are a paid product
Youtube
Use Case
A company that offers professional voiceover talent advertises to potential buyers 

Preroll video ad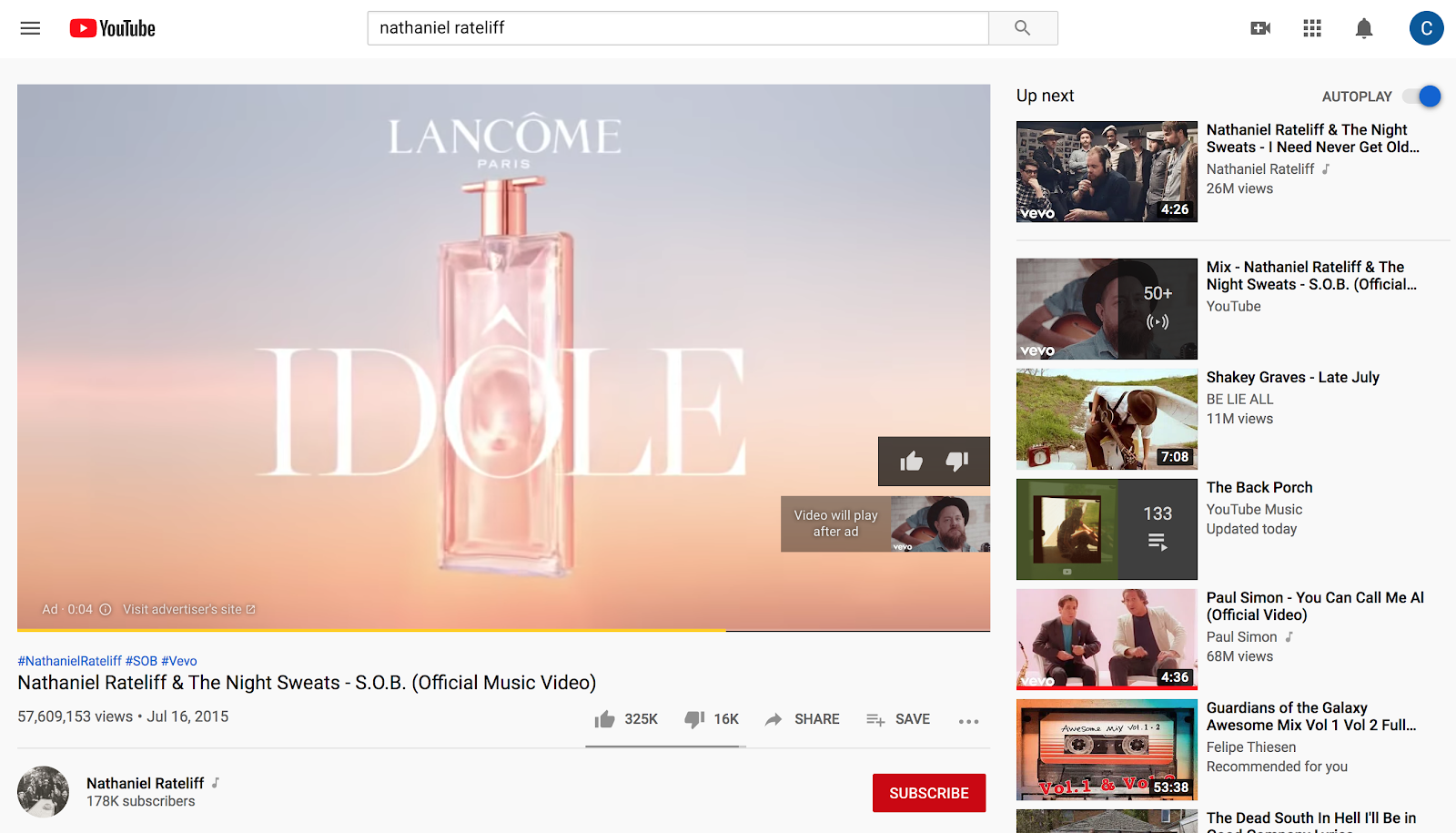 Pros
Surprisingly good for app install targeting

Scaleable channel - tons of users

Lower cost alternative for display-like and video based ads
Cons
Targeting is not amazing

Doesn't work as well for B2B brands
Display Ad Networks
Use Case
Used widely for cheaper awareness campaigns and remarketing to potential leads or repeat buyers

B2B Hair Extension brand reaches customers via remarketing using display ads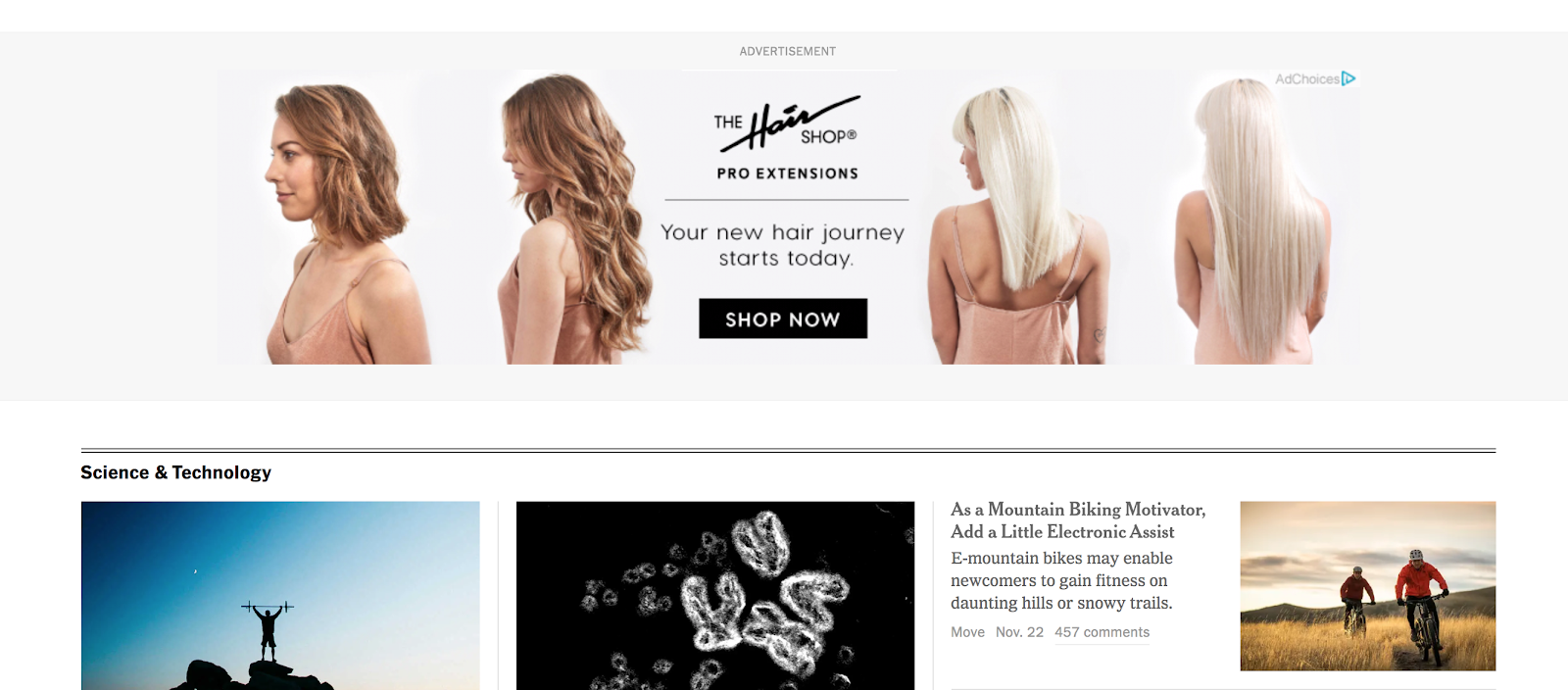 Pros
Super cheap way to drive brand awareness

Very large audience potential across a wide variety of websites and apps
Cons
For most display ads, conversion rates will be very low

Targeting is virtually nonexistent or poor at best
LinkedIn
Use Case
An enterprise sales intelligence platform reaches CFOs and CEOs of Fortune 1000 companies via sponsored content

A business hiring advertises jobs
Example 1

Example 2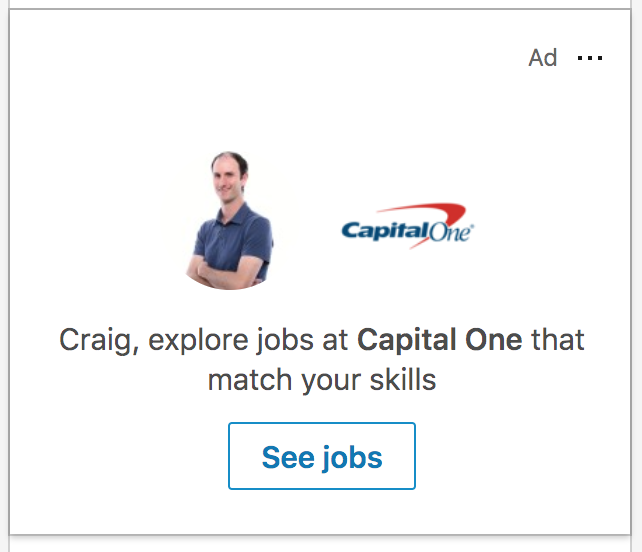 Google advertising data security on LinkedIn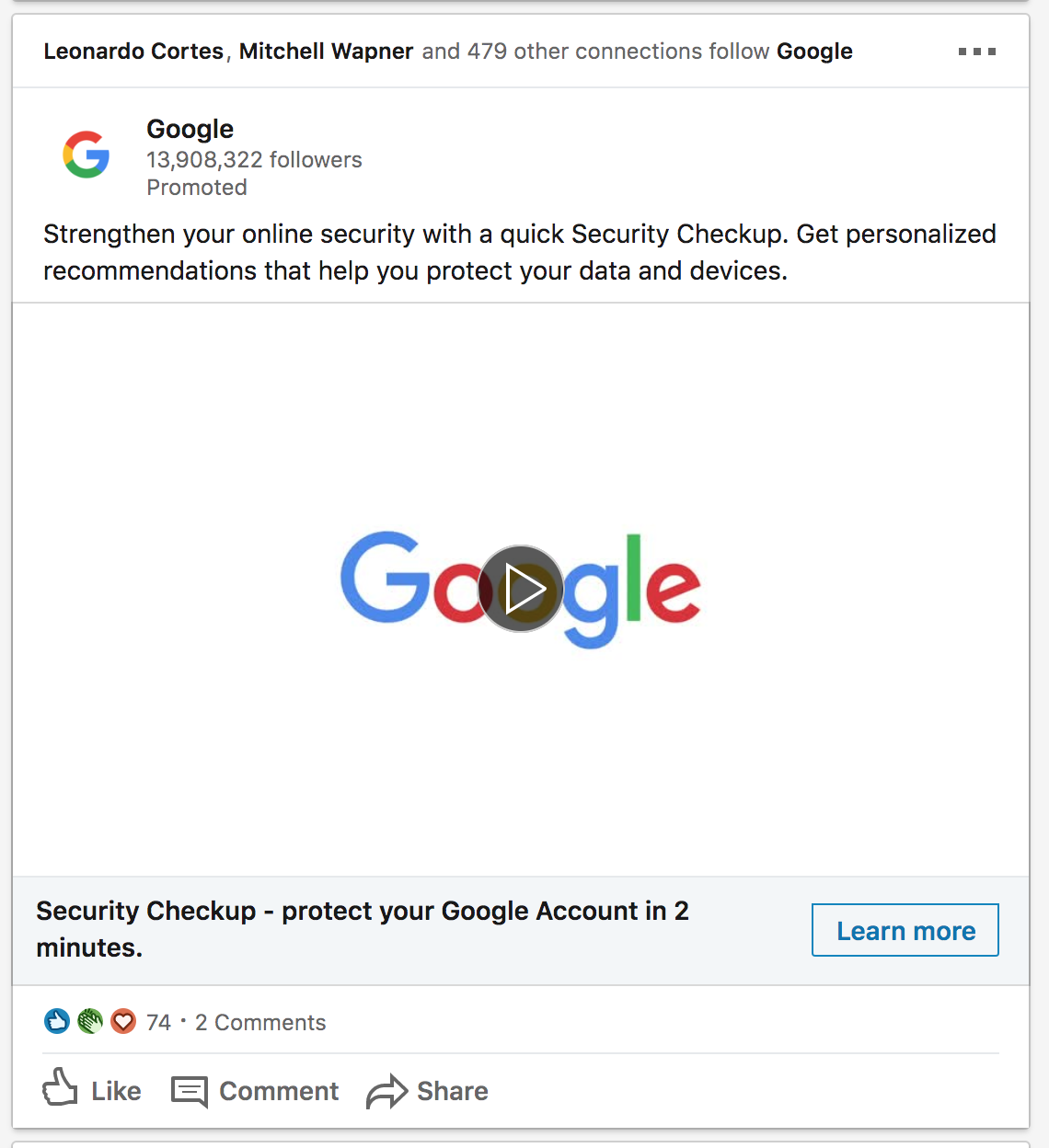 Pros
Really strong reach for B2B brands

Many different ad options including direct email outreach

Easy to setup and pretty flexible approval system
Cons
Very saturated for B2B

Very expensive - we've seen budgets blown on day 1 without careful planning